Call 07376249965 for a 24/7 emergency locksmith response
UPVC Door Specialist
Is your Upvc or composite door becoming difficult to lock? Do your handles feel clunky when you lift them up? These are very common problems with older doors or newer ones that have dropped and need adjusting. If left unchecked, they can lead to all sorts of problems and in the long run, cost more money to fix.
We have a lot of experience dealing with UPVC and composite doors and windows. From adjusting and aligning, unjamming, and opening, and repairing and replacing all parts. We carry most of the common parts on on our vans so most jobs can be completed on the first visit.
Common UPVC and composite door problems
UPVC Door won't shut
If your door won't shut or you have to lift it or force it shut, this usually means it has dropped or the door or frame has warped. This can be caused by house movement on new builds or extreme weather. This is why you will sometimes find it better or worse at certain times of year.
With this issue we can adjust and realign your door, hinges and keeps to get it shutting again. Apart from the obvious security issues of not shutting your door, you can also cause bigger and more expensive problems by forcing it shut. Its not uncommon to damage the handles, gearbox and/or full mechanism. Therefore, it's always best to call a Chelmsford locksmith early so we can realign everything before something breaks.
Door won't lock
If your door won't lock or you have to lift the door or handles to get it to lock this usually means the door or keeps are out of line, your cylinder, gearbox or mechanism is faulty. In most cases, the initial problem is the door or keeps are out of line and the customer will keep forcing the handles and lock. Over time the issue gets worse until the gearbox or full mechanism breaks, and the homeowner will then call a locksmith. It's always best to call a locksmith early to avoid the higher costs of replacing a gearbox, full mechanism, or handles.
With these issues, we can adjust or realign your door where no other damage has been caused and if need be, we can replace your gearbox or mechanism. If we replace any parts we will always check alignment and readjust if necessary so you don't have the same issues happening again.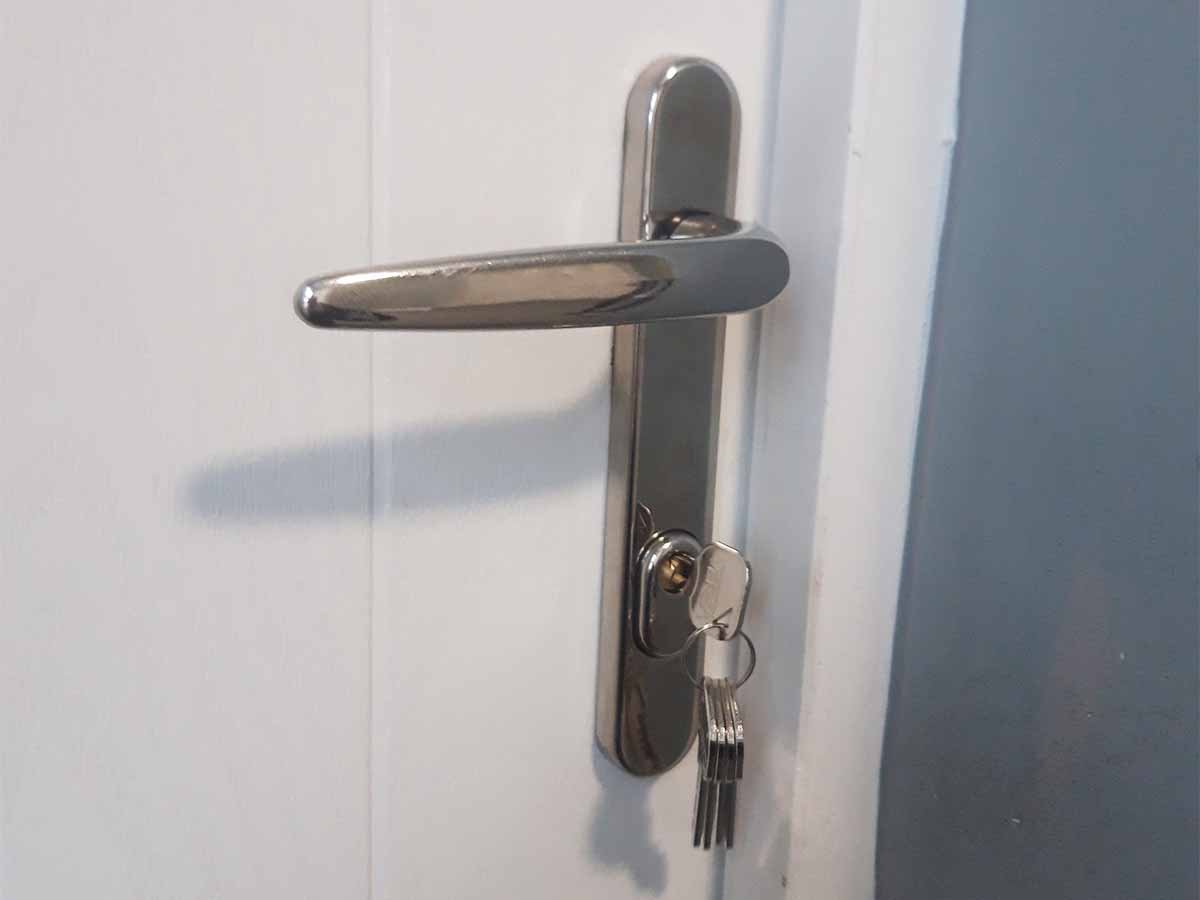 Handles are floppy or wont lift to lock
If your UPVC handles are floppy this usually means the spindle, spring cartridges or gearbox is faulty.
If you have any of the above issues, we carry replacement spindles, cartridges and handles on the van and the most common gearboxes so we can complete most jobs on the first visit.
If your UPVC handles won't lift to lock or you have to force them to lift it this could mean your door or keeps need realigning or your gearbox is faulty.
If you catch it early then realigning your door or keeps will do the trick but if you have left it and the gearbox is faulty, then it will need replacing and the doors and keeps realigning after, so it doesn't happen again. So if you have UPVC door handle problems, get in touch today and see how we can help you.
Door is jammed shut
When a door is jammed shut this means the gearbox and/or rest of the mechanism has failed and has jammed in the locked position. As above it is very important that you do not try to unjam it yourself as you could cause a lot of unnecessary damage. We have specialist tools made for this exact issue so we can unjam the door without any unwanted damage. In cases where the gearbox is faulty, we can replace just the gearbox but in cases where the whole mechanism has failed, or it is a very old part I can replace the whole mechanism.
Window is jammed shut
If your window is jammed shut this usually means the mechanism or one of its locking parts has failed or detached from the rest of the parts.
We have specialist tools made for this task and we can unjam windows for you without issue or any unwanted damage.
We can also replace all UPVC window parts including handles, keeps, gearboxes and full mechanisms.
Key is stuck in lock/Key is hard to turn/Key is spinning
If you have any of these issues, it is usually a faulty cylinder or gearbox. It is very important that you do not try to rectify this issue yourself. If it is a faulty lock, then this is much cheaper to replace that a faulty gearbox so its important the lock is removed correctly otherwise you can do unnecessary damage to the gearbox. As above, we have specialist tools for key extraction so we can safely remove the broken part of the key without causing any unnecessary damage to the door or working parts.
UPVC DOOR GEARBOX PROBLEMS
If your door is failing to lock, handles are stiff/floppy or the multi locking points are not moving/locking then you could have an issue with your door gearbox.
A failed gearbox is one of the more common jobs we get called to, and one we can usually remedy quite quickly by replacing the gearbox and diagnosing and remedying the issues that caused it to fail in the first place.
We can carry the most common (and some not so common) UPVC door gearboxes on the van so if you need your gearbox replaced, we can do in most cases on the first visit.
UPVC DOOR LOCKING MECHANISM PROBLEMS
A failed full mechanism is less common than a failed gearbox but it does still happen. Usually, the gearbox fails and as people tend to leave things and let the issues get worse, the rest of the mechanism starts to fail resulting in either the multi locking points failing or the door getting jammed shut.
Another reason for a full strip replacement can be when your gearbox fails but they no longer make a make a replacement gearbox for your door, so even if it's just the gearbox that has failed, you would need to replace the whole strip to get your door working again. Even with the additional cost of replacing the whole mechanism, it's always cheaper than replacing the whole door.
Our UPVC Locksmith Services
I can fix all the above UPVC issues and more and in most cases, I can fix or repair the problem on the first visit saving you time and money on additional visits and labour. It is very important that if you have any of these issues you get them looked at as soon as possible as the longer you leave them the worse things get and the more money it will cost you to rectify.
Get in touch today for a free no-obligation quote or advice.
Call 07376249965 for an emergency locksmith response 24/7
Areas we Service UPVC doors